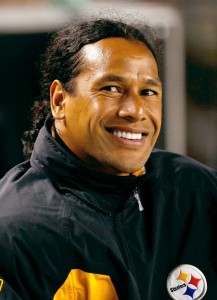 By Tera Abriatis
Troy Polamalu, of American Samoan descent, was born Troy Benjamin Aumua in Garden Grove, CA on April 19, 1981. He legally changed his last name to Polamalu, which is his mother's maiden name, in 2007. In 1989, he moved to Tenmile, OR with his uncle Salu and his family. Polamalu attended Douglas High School in Winston, OR. He attended college at the University of Southern California and was drafted by the Pittsburgh Steelers in 2003 as a Strong Safety.
While in high school, Polamalu participated in baseball, basketball and football, with football being his true passion. During his time on the Douglas Trojans football team, he played all sides of the ball, excelling as a running back on offense and a safety on defense. He rushed for 3,144 career yards, scored 56 touchdowns and recorded 19 interceptions. In his freshman year, he was named to the All Far West League second team. In his sophomore year, he was named to the All Far West first team as a running back and to the All Far West second team as a defensive back. Polamalu was also named the Offensive Most Valuable player. In his junior year, he was the All State and All Far West League offensive MVP. Polamalu only participated in 4 games his senior year due to a bruised kidney and back injury. He was still selected to the 1998 Super Prep All-Northwest team. Polamalu was also an All State centerfielder in baseball and was the starting outfielder for the Dr. Stewart's American Legion baseball team. He was named to the All-league first team in basketball.
In 1998, Polamalu went to USC on an athletic scholarship where he continued to excel in football. In his freshman season, he was primarily a backup safety and linebacker. Polamalu played in 8 games and accumulated 12 tackles, 2 sacks and 2 forced fumbles. He also blocked a punt and broke up a pass. He started his remaining 3 years at USC as the Strong Safety. In that time, Polamalu had 278 career tackles (29 for loss of yardage), 6 interceptions (3 returned for touchdowns), 13 deflections, 2 fumble recoveries and 4 blocked punts. In 2000, he was an All-Pac-10 honorable mention. In 2001, Polamalu earned many accolades including the Football Writers All American first team, College and Pro Football newsweekly All American first team, AP All American second team, Sporting News All American and Football news All American third team, and the All-Pac-10 first team. Polamalu was also named a team captain for the USC Trojans and earned the MVP award for the team. He was twice named the player of the week by the Pac-10, once for defense and once for special teams. In 2002, Polamalu again earned the PAC-10 All American first team nomination, making him the first safety to become a two time All-American first team since 1989. Other earnings in 2002 included being named the AP, Walter Camp, ESPN.com and CBS Sportline.com All American first teams and the Sporting News All American second team. Polamalu was again named a team captain and was honored with the USC's Most Inspirational Player and Co-Lifter award. Sports Illustrated named him as 1 of 5 "Terminators" in college football in 2002. He was also a finalist for the Jim Thorpe award his senior year. Polamalu was invited to play in the 2003 East-West Shrine Game and Senior Bowl.
In 2003, Polamalu was drafted into the NFL by the Pittsburgh Steelers. The Steelers traded their 27th pick, and two later round picks to the Kansas City Chiefs to move up to the 16th spot to grab Polamalu. He was the first safety to ever be drafted by the Steelers in the first round. In 2003, Polamalu spent most of his time on the Special Teams unit where he began to make quite a name for himself. He earned the Joe Greene Award, which is given to the team's top rookie. At the start of the 2004 season, he was named the starting strong safety for the team. The team reached the AFC Championship game that year, only to lose to New England. Polamalu finished the season strong, earning his first Pro Bowl appearance, as a reserve, and was nominated to the AP All Pro second team. In 2005, his third year on the team, Polamalu tied an NFL record for most sacks in one game by a safety, 3, against the Houston Texans. Polamalu made his first Super Bowl appearance as the Steelers beat the Seahawks in Super Bowl XL in Detroit, MI. He was again selected to the Pro Bowl, this time as the starter. He was also nominated to the AP All Pro First Team. In 2006, Polamalu earned his third trip to the Pro Bowl, again as a starter and earned his first nomination for Defensive Player of the week in week 6 against the Kansas City Chiefs. The 2007 season started with a new Head Coach, Mike Tomlin. Polamalu earned his fourth bid to the Pro Bowl and was named to the AP All Pro second team. 2008 was Polamalu's breakout year. Polamalu maked his second trip to the Super Bowl, where the Steelers defeated the Cardinals in Super Bowl XLIII in Tampa, FL. Polamalu earned several accolades for his performance that season. He was voted to the Pro Bowl for the fifth consecutive year, fourth as a starter. He received 2 separate Defensive Player of the Week honors for week 2 against the Browns. He was named to the AP All Pro first team along with the Sporting News and Football Writers All Pro first teams. He was also picked to be one of the faces on the Madden 09 game. He appeared with Cardinals WR Larry Fitzgerald. The 2009 season was a down one for Polamalu, he missed 11 games with a knee injury. In 2010, Polamalu bounced back from his injury and earned the AP Defensive Player of the Year and the NFL 101 Defensive Player of the year awards. His teammates presented him with the Steelers MVP and Man of the Year awards. Teammate Hines Ward was quoted as referring to Polamalu as "Clark Kent who goes into a phone booth on Sundays and comes out Superman". He earned All Pro first team nominations from the Associated Press and Pro Football Weekly. Polamalu also earned back to back AFC Defensive Player of the week in weeks 13 and 14. Sporting News and Sports Illustrated named him to the All Pro Defense and he earned his sixth trip to the Pro Bowl. He was named to the 2000's NFL All Decade Team. Polamalu played in his third Super Bowl when the Steelers lost to the Green Bay Packers for Super Bowl XLV in Dallas, TX. This was Polamalu's first loss in a Super Bowl since becoming a two time Super Bowl Champion (2005, 2008). The 2011 season saw Polamalu earn his seventh trip to the Pro Bowl, he did not participate due to a calf injury. He earned the AP All Pro first team honor and was elected to the Pro Football Writers All NFL team. Polamalu is an explosive player who must be accounted for on every down. Many quarterbacks have admitted to being fearful of throwing in his direction, when they can figure out which direction that is.